Everyone needs a hero.
That's what Detective Molly Masters tells me. "What we need," she says, "what the whole world needs," she pleads, "is a champion."
The only thing I want to talk about with Molly Masters is how I'd like to make her scream my name when I push her up against a wall, slide my hand up her thigh, and live out my wildest fantasies.
"Someone who will fight against injustice," she says.
I'll fight against anything you want, honey. Just come a little closer.
"Someone who will stand tall in the face of adversity," she says.
I'll do it standing, sitting, or lying down. See how easy I am?
"Someone who believes in the value of a good deed," she says.
I believe in the value of me, sweetheart. Because I'm Lincoln Wade. Jaded genius, obscenely wealthy, capable of violence, and looking for revenge.
Molly Masters might have delusions of grandeur. She might see me as some superman capable of cleaning up the scum, filth, and corruption in Cathedral City.
But I'm not the hero she's looking for.
I'm the dark alley where all her good intentions hide.
So be careful what you wish for, Molly Masters.
Because you're about to get it.
5 Alpha & Omega Stars
Words escape me! Have no clue How Julie comes up with these originally awesome stories! With a nod to the smart, sassy, beautiful Molly, I'm listing this book!
The perfect list – 10 things to rave about in this book:
1. Gun Girl – Molly Masters
"The gun isn't the weapon, bike boy. I am."
2. Bike Boy – Lincoln Wade
"I am mayhem, I am anarchy and I am found. But most of all, I am Alpha.
3. Shelia
4. Alpha and Omega
"He was my beginning and I was his end."
5. The sizzling, innate connection between Molly and Linc.
6. The action, the bikes, the superheroes and villains.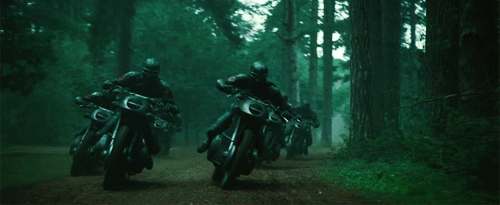 7. Thomas Brooks
While this is certainly Lincoln's story, Julie gives us a tease into the other Alphas with bread crumbs as to what's to come. Images for 7, 8 and 9 courtesy of Julie's Super Alpha Series, you must check it out and learn more about each Alpha.
8. Case Reider
9. Atticus Montgomery
10. All of it and there's more to come!