STORM (noun)—a turbulent disturbance; a disruption or dispute.
Jake Wethers's life is perfect. He's married to the woman he's always loved, and they have three beautiful children. The Mighty Storm is still going strong, and his record label is thriving.
Jake has everything—a life he thought he would never have and one that he didn't think he deserved.
Not so long ago, Jake's life wasn't perfect. The unexpected and untimely death of his best friend, Jonny Creed, sent an already out-of-control Jake spiraling down further.
Drug addiction. Alcohol. Women.
Jake was in the fast lane to following Jonny to the grave until Tru Bennett walked back into his life and changed everything.
But now, the past that Jake left behind has come back to find him. And what the past brings with it is going to be one of the biggest challenges he has ever faced.
I can't say too much as you really need to experience this for yourself. If you're a die-hard Jake Wethers fan, and you know who you are, you`ll LOVE this! Jake just gets better with age.
And Tru and Jake are stronger than ever and Jake`s love for her is just perfection!
"...the first, last and only woman I will ever love, Tru."
When I heard Samantha was giving us this gift, I was worried because I didn't want anything to mess with Tru and Jake. But I must say, this novella was needed. I didn't realize it but something was missing and this short, moving and special tale makes this great series even better.
This gutted me but also had my heart warming for Jake, Tru, Tom and Denny.
It was totally awesome to visit with Jake, Tru and the band, and see where they're now. But it was not nearly enough. I didn't want it to end.
**ARC generously provided by author in exchange for an honest review.**
4.75 stars
Holy mother of god.. How do I begin to review this...
I'm keeping this short and sweet, I ADORED the storm books, seriously unputadownable for me. Intense love stories hit me good, and Tru and Jakes story did just that. Before I go on just know that THERE IS NO CHEATING ok, this is not a story about going back in time, it's not about broken hearts and opening old wounds. But more so about healing old wounds in the best way possible. If your worried about having a story re-kindling the mighty storm and are anxious because of that, then don't fret really this book is emotional but it's not heartbreaking in that sense.
One thing I loved about Jake and Tru's story is that its about unity and family, it's about a band that supports each other and become a family because they are there and care for each other. Yet we know Jonny is know longer with us in those books but very much in the midst of the development of it all. Jake and Jonny are best friends and although he's not alive and wasn't from get go he is very much in the midst of the whole series, and this is no different, I loved that, I love that I get to miss him too if that makes sense. He is very much alive in there lives and that's all that matters right?.
I'm not going any further but saying it is emotional this but it was a book about healing, about LOVE, and friendship, loyalties, and moving forward. I suppose it's a story about endings if that makes sense...
If you have read this series and loved Jake and Tru's journey then this is most definitely a novella to read. It was the Icing on the cake for me....
Love and hugs Samantha really your a legend... THANKYOU for writing this... Xoxo
That. Is. All xx
ARC gifted via the author in exchange for an honest review
I'm just mid piss when I hear my baby girl's sleepy voice from behind me, "Dada, why I not have a peenis?" Shifting to the side so that I'm covering myself from Belle's view, I glance over my shoulder, a chuckle escaping me. "'Cause you're a girl, Beauty." "But I wanna be a boy, like you, JJ, and Billy." She juts her lips out, pouting. "I wanna peenis!" She's standing there, demanding a penis, in her Disney princess pajamas, with her arms folded across her chest, her foot tapping.
God, she is exactly like her mother.
Not that Tru ever wanted a cock—well, aside from mine inside her, of course. But Belle has Tru's steely determination, and she looks exactly like her mother, which means trouble for me when she's older. But like I know how to handle my wife's temperament, I know how to handle Belle. "Okay, Beauty, how about this?" I say in a pacifying tone, holding in my laughter. I tuck myself back into my pajama pants and go to wash my hands. "Why don't you ask Santa for a penis for Christmas?" The second that I've said it, I know that it sounds all kinds of wrong. It's so wrong that I wish to God I could take it back. "Santa, give me a peenis!" Belle starts squealing, jumping around and clapping her hands. "Fuck. Shit! No!" I panic as soon as the words leave my mouth, knowing exactly what Belle is like. A goddamn parrot is what she's like. "Fuck! Shit! Santa, peenis!" Belle starts to mimic, hands still clapping together.
Crap. Tru is going to kill me. Kill me dead.
"Christ." I cover my face with my hands. "Belle, no." I reach down and pick her up. She wraps her little chubby legs around my hips, her hands clutching at my neck. "Don't say those words. Bad words." I touch my fingertip to her nose, staring into her big brown eyes—Tru's eyes. "Fuck. Sh—" "Bad words," I reiterate, giving her a serious look. "We do not repeat those words. Ever. And especially not in front of Mommy. Okay?" "So, Santa gimme peenis if I say no bad wowds?" "Oh God," I groan. "Santa! Peenis!" She giggles. "Breakfast, Belle!" I exclaim. "You want some Frozen cereal?" I say to distract her. That fucking annoying Disney film is her favorite, and she will only eat that particular brand of cereal. "Fwozen!" she shrieks. Then, she launches into the chorus of "Let It Go" as I carry her out of the bathroom, heading downstairs to the kitchen where my tribe should be.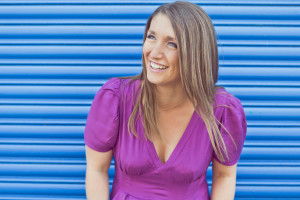 New York Times, USA Today, Wall Street Journal and international bestselling author Samantha Towle began her first novel in 2008 while on maternity leave. She completed the manuscript five months later and hasn't stopped writing since.
She has written contemporary romances, THE MIGHTY STORM, WETHERING THE STORM, TAMING THE STORM and TROUBLE.
She has also written paranormal romances, THE BRINGER and the ALEXANDRA JONES SERIES, all penned to tunes of The Killers, Kings of Leon, Adele, The Doors, Oasis, Fleetwood Mac,and more of her favourite musicians. A native of Hull and a graduate of Salford University, she lives with her husband, Craig, in East Yorkshire with their son and daughter.