Hey there! This past year, both Katy and I (Suzanne) were lucky enough to meet one of the hottest, sexiest Alpha men to grace the pages of a book in Marni Mann's Unblocked Series! Derek Block was one unforgettable man and what that man could do with his mouth! *blushes and giggles* So, we were super excited when we had the chance to chat with Marni Mann about the woman behind the man (so to speak).
Suzanne - Marni, welcome! We're so excited to chat with you! And I like we gushed said, Derek Block is one fine specimen. You had us anxiously awaiting each novella for more of that beautiful man. Where do you find your character inspiration? Do you have any muses?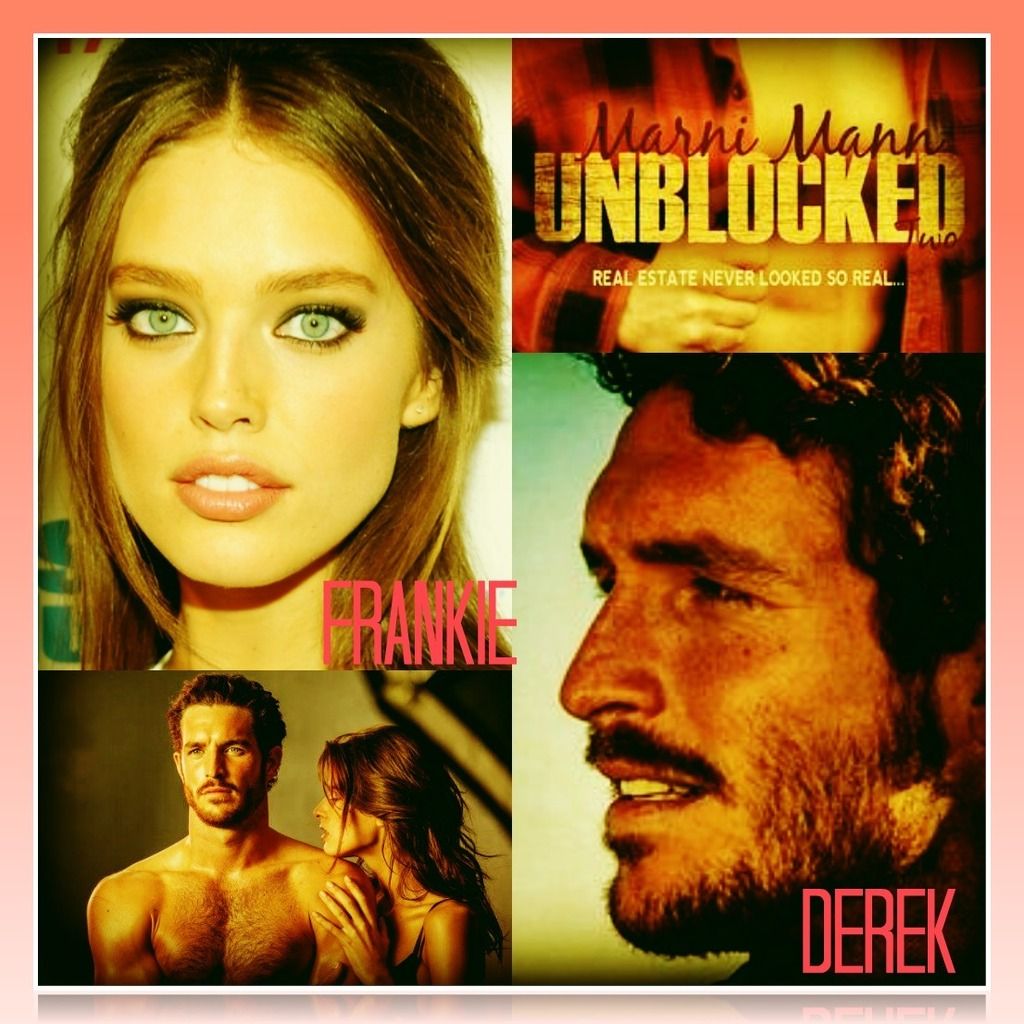 Marni - Thank you so much, Suzanne and Katy, and thanks for spotlighting me on your site. I'm so excited to be spending time with the both of you! <3
Inspiration comes randomly and at the most unexpected times. Sometimes it's TV shows, movies, songs, people I pass on the street, or I meet during my travels. For Unblocked, I based the character on someone from my past, someone who needed a happy ending, but didn't get one in real life. I took his best qualities and mixed in some other traits that I found desirable. The result was Derek Block.
Flaws are my muse - personality flaws, physical flaws, character flaws. I find them beautiful and challenging and I use them as the core of all my stories.
Katy - I love travelling but I don't get to do a great amount and that's one of the big reasons why I love to read. It's to get away and be in a place I wouldn't normally be able to visit with my busy lifestyle. Also I love art and especially architecture, one of my favourite architects is Gaudi in Barcelona second to my dad who is also an architect. LOL! I was wondering why you chose to have a hard working architect with a fleecy shirt as a hero?
Marni - Real estate is a passion of mine and I worked in the industry for many years so it's a language I understand quite well. It's also a profession I find extremely sexy. Having a man design your home, a place where you'll shed your layers, strip off your clothes, and be completely vulnerable is so erotic to me. Making that man rough and unrefined, gorgeous, with talented hands and a deep knowledge of a woman's body…swoon!
Suzanne *fans herself* - Wow, that is hawt!!
Katy – Hmm, it sure is! *shakes her head* Where were we? Ahhh yes! Did you do any research into the wood aspect of the story because somehow you made those scenes erotic and added something different to our favourite bearded hero that I haven't read in anything else?
Marni - Sadly, I knew almost nothing about wood - the one that comes from trees, anyway ;)
- when I chose it for the story so I did lots of research on the internet. I also went to lumber yards so I could touch the wood, describe the feel, articulate the exact color.
Suzanne - I'm sure all of your characters are near and dear to your heart but if you had to choose, who'd be your favourite and why?
Marni - This is such a hard question, but I'd have to say Nicole from my first novel, Memoirs Aren't Fairytales. She was the first voice I ever heard, the book I worked the longest on, the character who allowed me to step into her painful, tragic, volatile world. She came to me at a time when I really needed her and she's the character who needed me the most.
Suzanne – That's amazing. I MUST meet Nicole! Speaking of connecting to characters, I really connected with Frankie and recognized some of myself in her. Which of your characters are you most like?
Marni - I see more of myself in Frankie than any of my other characters. We think alike, we react similarly to situations, we love pinot noir and anything chocolate and men who have beards. We're also extremely emotional and shy. That's not to say we don't have wild sides - we do - they're just reserved for those special people in our lives.
Suzanne – Marni, I think you and I would get along so well. Wine is a passion of mine as is chocolate! Girl, I wished we lived in the same city, I could see some really fun times over a bottle of pinot! LOL
Katy – Count me in! Speaking of fun time, with all the erotic and sexy scenes you write, what's your preference in underwear – silk or lace?
Suzanne – Sexy advantage, for sure! Marni, thanks so much for chatting with us. We both loved learning more about you and hearing more about Derek *sigh* but before you go, can you share with us what's next for you?
Marni - While I was writing Unblocked, one of the secondary characters, Brea Bradley, started sharing her story with me. Her book is titled Wild Aces and it will be out early next year. It's a standalone novel and you don't have to read Unblocked to understand her story, but many of the same characters will be returning. Including Derek. ;)
Katy – Yeah, can you give us a teaser from Wild Aces?
Marni - Wild Aces is emotional, angst-filled, with a storyline that's dark and tragic. It's about loss, second chances, and redemption. Brea's world is nothing as it seems, things are happening she can't control and her strength is tested in every way possible. She reaches her breaking point and you'll get to see if she's able to build herself back up or if she'll stay in those desolate shadows forever. It rides a fine line between erotica and contemporary and I can't wait for you to read it!
Katy – Me neither, Wild Aces sound so good. Thanks so much, Marni!
Suzanne - It sure does and I love that Derek will be around too. I can hardly wait to meet your next hero!
Marni - Thank you both SO much for having me and for giving Derek so much love. Big hugs. xoxo
Best-selling Author Marni Mann knew she was going to be a writer since middle school. While other girls her age were daydreaming about teenage pop stars, Mann was fantasizing about penning her first novel. She crafts sexy, titillating stories that weave together her love of darkness, mystery, passion, and human emotion. A New Englander at heart, she now lives in Sarasota, Florida with her husband and their two dogs who subsequently have been characters in her books. When she's not nose deep in her laptop working on her next novel, she's scouring for chocolate, sipping wine, traveling to new locations, and devouring fabulous books.