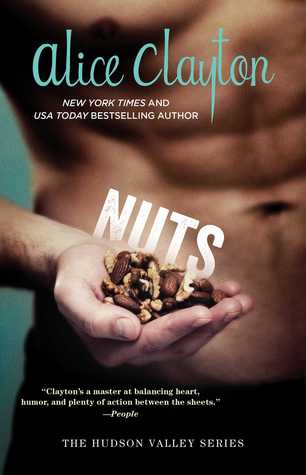 The
New York Times
bestselling author of
Wallbanger
and
Rusty Nailed
is back with
Nuts,
the first in a brand new series set in New York's beautiful Hudson Valley.
Roxie Callahan is a private chef to some of Hollywood's wealthiest, and nastiest, calorie-counting wives. After a dairy disaster implodes her carefully crafted career in one fell ploop, she finds herself back home in upstate New York, bailing out her hippie mother and running the family diner.
When gorgeous local farmer Leo Maxwell delivers her a lovely bunch of organic walnuts, Roxie wonders if a summer back home isn't such a bad idea after all. Leo is heavily involved in the sustainable slow food movement, and he likes to take his time.
In all things
. Roxie is determined to head back to the west coast as soon as summer ends, but will the pull of lazy fireflies and her very own Almanzo Wilder be enough to keep her home for good?
Salty. Spicy. Sweet.
Nuts
. Go on, grab a handful.
I love Alice Clayton books, Wallbanger being one of my top favourites and this was just the same. It's heartwarming, loving, sexy and funny in the best ways.
This is about Roxie who has been the parent to her mum when growing up being that her mum is a hippy go happy kind of lover. Who goes from one man to the next making Roxie resent love and not really want that kind of relationship for herself, so she stays clear. Moving to the BIG City she is finding that life as a chef is hard work, and then she ends up in a predicament. Her mum needs Roxie's help to run the family café, so she can travel around the country. This is an opportunity for her mum and maybe just maybe this is perfect timing for Roxie to take a breather. So she goes home to help her mum, and therefore maybe just maybe its what she needs. We sometimes run away from the one place that is home so Roxie is happy to help over the summer but she is going back to her 'Stable' life in September, that's the deal so her mum agrees.
Leo is the owner of the farm in town and Roxie and Leo stumble together on many funny occasions, but they have magnetic chemistry that has the ladies jealous. Roxie can't seem to walk away so is happy to have a summer fling then move on with her life. Yet as time goes by she see's possibilities of a future in her home town, she see's ways to have a career, a place to thrive and a place to enjoy her talents.
Roxie loves to Bake, I loved reading about family recipes and cakes that made my mouth water. I also loved a book that was about home and finding a place that was full of building a future. I loved the romance of the town and the place that gave Roxie a meaning and a purpose but more importantly friends and family.
Leo had one BIG heart and he was a lovable yet sexy Farmer that I assure you, you will fall for. He was sexy and their chemistry and banter was soooo funny to read, I was totally swept away by Leo.
If your wanting a heartwarming yet sensual story about finding home, families, friendships, giving and FOOD for the heart then this should be your next read.
**ARC Gifted via the author in exchange for an honest review**
Just for fun #ShowMeYourNuts in the comments: