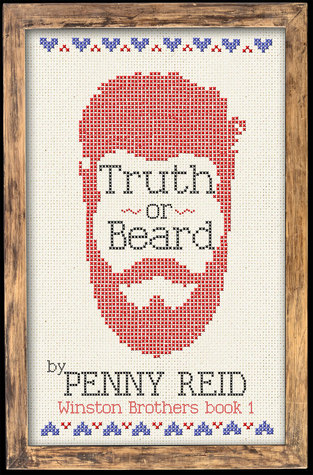 Beards, brothers, and bikers! Oh my!
Identical twins Beau and Duane Winston might share the same devastatingly handsome face, but where Beau is outgoing and sociable, Duane is broody and reserved. This is why Jessica James, recent college graduate and perpetual level-headed good girl, has been in naïve and unhealthy infatuation with Beau Winston for most of her life.
His friendly smiles make her tongue-tied and weak-kneed, and she's never been able to move beyond her childhood crush. Whereas Duane and Jessica have always been adversaries. She can't stand him, and she's pretty sure he can't stand the sight of her…
But after a case of mistaken identity, Jessica finds herself in a massive confusion kerfuffle. Jessica James has spent her whole life paralyzed by the fantasy of Beau and her assumptions of Duane's disdain; therefore she's unprepared for the reality that is Duane's insatiable interest, as well as his hot hands and hot mouth and hotter looks. Not helping Jessica's muddled mind and good girl sensibilities, Duane seems to have gotten himself in trouble with the local biker gang, the Iron Order.
Certainly, Beau's magic spell is broken. Yet when Jessica finds herself drawn to the man who was always her adversary, now more dangerous than ever, how much of her level-head heart is she willing to risk?
Series Description
Everyone in Green Valley, Tennessee knows that the six bearded Winston brothers have been imbued with an unfair share of charm and charisma… and are prone to mischief.
Truth or Beard is book #1 in the Winston Brother's series. Each book is a standalone, full length (110k words), contemporary romantic comedy novel, and follows the romantic exploits and adventures of one of the six Winston Brothers.
I'm falling for Penny Reid...
this woman just knows how to write! This is my second book by her and I'm left with this same wonderful feeling after the book is done.
Damn, this was an absolutely wonderful read! This book had everything I want in a book - lovable, layered characters, witty banter, flirty, sexy, an original and engaging plot and simply fantastic writing!!!
Here we have, Jessica James, the Sheriff's daughter back from college but only staying in Green Valley, Tennessee, long enough to pay her student loans off and then she's going to travel the world. She's smart, sassy, sexy and has a dash of wild in her.
Then there's Duane Winston, one of six brothers and twin to Beau. Where Beau is easy going, laughs and smiles, Duane is stoic, silent and glares. Yet Duane is also fearless and loves adventure. Jessica grew up with both these boys and had a huge crush on Beau and a huge dislike for Duane. Of course, the opposite was true for Duane. From his early teens, Jessica James was IT for him.
"I hadn't noticed she was a girl-or the existence of any other girl-until I was nearly thirteen. By then it was too late. She disliked me. But she worshiped my brother. He didn't see her, not really. Not like I did."
With Jessica's return, she finds herself up close and personal with who she thinks is the man of her dreams - Beau - only to discover, it's Duane. At this point, Jess' world is turned upside down by the contradiction of what her brain tells her about Duane and the way her body and heart feels when she's in Duane's arms, his lips pressed to hers, having his body up against hers...
Of course, Duane wants it all with Jessica: marriage, kids, a future but Jess has other plans. Here ensues complications as these two are drawn to each other like magnets but want completely different things.
In addition to this fabulously sexy, funny, and heartwarming romance, there's also the camaraderie and brotherly love among the bearded Winston men, blackmail and mayhem as folks tangle with the local badass MC and the quirks and foibles that come with the characters of a small, quaint town.
"I fought to distance myself from her gaze, but she reeled me in. Her mouth, her eyes, her body – my bait. Jessica was so much more than beautiful."
"And just like that, kissing Duane Winston jumped to the top of my favorite pastimes, my favorites list. Actually, debating, talking to, holding hands with, and hugging Duane Winston were also now on my list."
And while I know I'm not alone...I'm seriously in love with the Winston brothers...
...each of them has their quirks and each are adorable in their own way. I can't wait to get to know all of these deliciously gorgeous bearded men!!