Emma Chase,
New York Times
bestselling author of the Tangled series, returns with the second installment of the Legal Briefs series!
A knight in tarnished armor is still a knight.
When you're a defense attorney in Washington, DC, you see firsthand how hard life can be, and that sometimes the only way to survive is to be harder. I, Jake Becker, have a reputation for being cold, callous, and intimidating—and that suits me just fine. In fact, it's necessary when I'm breaking down a witness on the stand.
Complications don't work for me—I'm a "need-to-know" type of man. If you're my client, tell me the basic facts. If you're my date, stick to what will get you off. I'm not a therapist or Prince Charming—and I don't pretend to be.
Then Chelsea McQuaid and her six orphaned nieces and nephews came along and complicated the ever-loving hell out of my life. Now I'm going to Mommy & Me classes, One Direction concerts, the emergency room, and am knee deep in a damn compost pit.
Chelsea's too sweet, too innocent, and too gorgeous for her own good. She tries to be tough, but she's not. She needs someone to help her, and defend her…and the kids.
And that—that, I know how to do.
"A knight in tarnished armor is still a knight."
Emma Chase is a rare and gifted breed of author that has the natural knack of mixing hilarity with a little bit of angst and a whole lot of hot and sexy to perfection!
Sustained, the second book in her Legal Briefs series was Perfect because...it really. fucking. was.
Jake Becker is a criminal defense attorney and likes things organized his way - neat and easy. He's Mr. No Strings, definitely a playboy and has no shame in admitting it.
"A woman's mind and personality don't turn me on. It's her other parts that hold my attention."
He gets a wake up call when a past one night stand tells him he may have a STD and he has to get tested. Jake in discussion with Stanton, Sofia and Brent considers dating so he's getting regular sex from one partner rather than many.
"I wonder if the pussy is better if you actually know the girl's name."
Then one day, Jake's life gets real complicated and messy when he meets Chelsea McQuaid, recent guardian to her 6 nieces and nephews.
Chelsea's smart, funny, beautiful and has a huge, caring heart. Even with all the chaos around them, Jake and Chelsea just click. I loved how Emma let Jake and Chelsea's relationship gradually grow as she took us through their natural progression from friends to lovers.
Chelsea and Jake were so real and had my tummy a flutter with all the great feels yet there was also a fragility to their relationship. Jake still had so much to work out and Chelsea's life had dramatically shifted to a place where she doesn't have time for games and uncertainty.
And Jake with the kids was simply adorable. He's honest, says it like it is but he's also caring, protective and has their best interest at heart. Oh man, Jake...
"I want her – this fearless, stunning woman. And I want the kids. Those perfect, awful, amazing children – whom she loves with every inch of her soul. I want them to be mine. Mine to hold, mine to protect and teach. Their joy, their laughter, their love. I want to come home to it, bask in it, be the reason for it."
I highly recommend this book and this series! Absolute tingles of joy, laughs and all over feel good read! Just writing this review makes me want to read it again.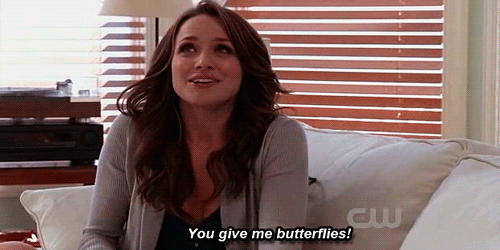 Emma, thanks for another fantastic read! Simply the best! I'm so hooked on these sexy, hot lawyers and really looking forward to Brent's!
***An advance reading copy was generously provided by Emma Chase in exchange for an honest review
***