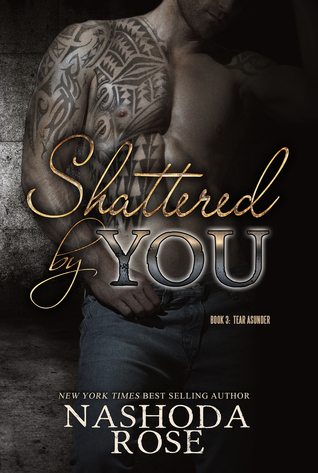 What started out as a deal quickly became a friendship that conquered monsters.
I killed, but I escaped hell.
Emotionless. Disconnected. Cold. A mannequin. It's what I'd become in order to survive the years held in captivity. I was able to endure the abuse and devastating loss as long as I remained detached.
But he wouldn't let me.
Crisis, the bass guitarist in my brother's rock band, Tear Asunder. He's cocky, rude, a total man-whore. But the rock star has far more beneath the surface of his inked skin, and he's determined to make me laugh again.
He made me a "deal", but really, it was blackmail.
His terms were simple. Until his playful honesty became the building blocks to something unexpected. Something strong enough to pull me from the eye of the storm.
Because even though I escaped years of abuse, it didn't mean I was free.
**For mature audiences only**
Shattered by You
is written as a standalone, however, it is recommended you read the Tear Asunder books in order.
**Contains spoilers for "Overwhelmed by You"**
This story is about
"surviving the pieces. It's about the strength found within the damaged. It's above love. Love found despite the jagged, tainted edges…"
Haven, Ream's twin sister, is numb. She fights to find numbness now that she's free. She wants to remain numb to the people around her, the love of her brother Ream, the attention of Crisis and most of all, numb from the monsters in her past. So she runs...
...to the point of utter and total exhaustion. She's slowly unraveling, peeling back the layers of her dark and dirty past. But all she wants to do is be normal and free. Have the right to choose and be independent. But nothing's that easy.
"I was swimming in an ocean of black, unable to find my way back to shore. I didn't know whether I'd sink to the bottom or if I'd have enough strength to tread water until shore found its way to me. But I had a life jacket. I had Crisis."
Crisis, the bass guitarist of hit rock band Tear Asunder and all around heart-throb, is playful, flirty, sexy and confident. In the other books, we saw his man-whoring ways, his relentless flirting and his lighthearted banter. If anyone has any misgivings about Crisis, they'll completely vanish because he was truly the sweetest, most caring and patient guy.
He sees Haven and wants to be there for her. Not to get in her pants, okay he does but he'll wait. Crisis will wait for her no matter how long it takes because with Haven it's not about that, it's about ALL of her.
Crisis and Haven's relationship is slow, measured and perfect. With all that Haven has endured in her short 23 years of life, any other pace would have seemed unbelievable. Their friendship into lovers story is truly beautiful, heart breaking, tender and at times, laugh out loud funny thanks to Crisis.
"Crisis was like breathing in fresh air. The beauty of him was that there were no lies. No mask. He said what everyone else was too polite or afraid to say."
"You will break. One day that cool exterior you're hiding behind will shatter. It has to. It has nowhere to go. And when it does happen, I intend to be there to help you pick up the pieces."
This series has captivated me from the novella, With You and just when I think Ms. Rose has reached the pinnacle, she shatters that with another fantastic story. This is a beautiful, timeless love story filled with hope, despair, darkness, anger, happiness and love. Experiencing Haven and Crisis grow into a couple was truly beautiful...
I devoured this story, literally could not put it down and now I'm all mixed up.
I'm over the moon with how good it was...
...but also sad because it's over
...and I now have to wait for Kite's story!!
An ARC generously provided by the author in exchange for an honest review.
I woke up to my phone buzzing on the nightstand. I rolled over and put the pillow over my head. My leg muscles ached from my run last night, having pushed myself farther and longer than usual. The wind had been strong, trying to unhinge me with each step. I refused to give in. I'd win this fight. I'd kill the monsters. I'd watch them bleed until they no longer lived inside me.
But they did. My last few episodes proved that.
I sighed and tossed the pillow aside.
"Pick up your phone," Crisis called through the door.
Oh, my God.
"What are you doing outside my door?"
"Pick up your phone and find out." I heard a thump on my door.
I reached over and snagged my phone.
Move it, Ice. We're taking out the big tractor.
Okay, maybe not yet, but I will.
I'll just sit outside your door until you get your ass out here.
I glanced at the time on the screen. Nine. "It's Sunday. I'm going back to sleep," I called, then tossed my phone aside and rolled over, tucking the sheet under my chin.
The door burst open and quickly shut again. Crisis leaned against it, his lips pushed together with that familiar crease between his eyes. "Our brother is a fuckin' Terminator. I swear he has radar in his head that goes off every time I talk to you."
My eyes narrowed in on him; he was so full of crap. "Crisis. Get out." My brother wasn't—
A light knock sounded on the door. "Sis?"
Shit. I sat up, making certain to keep the sheets covering me because I was wearing a pink silk negligee with skimpy spaghetti straps and it barely covered my breasts. Kat had bought it for me when I first came to live with them, along with a drawer full of panties and bras. She said, 'every girl deserved to have beautiful negligee next to her skin.' At first, I balked, internally of course, wanting nothing to do with anything sexy. But after a few months feeling the soft silky material on my hands as I pushed them aside in my drawer . . . I tried one of them on.
I'd never had anything but cheap clothes, and the negligee felt nice against my skin. It made me feel . . . good about myself.
Crisis crossed his arms and I couldn't stop from glancing at his tatted biceps. Then my gaze trailed down his hard muscled body to strong thighs clothed in worn jeans hanging low on his hips.
God, where was my head? It was too early in the morning and I was wavering under the sweet clenching between my legs and the whirl in my belly. He was a rock star, a hot rock star who was always on social media. Triple hard limit.
"Haven? I just saw your door close."
I cleared my throat and gestured to Crisis to get away from the door before my brother barged in, saw him and jumped to conclusions. He pushed away and came straight for me, his eyes sparking a mischievous glow.
My brother knocked again. "We're going to brunch today at Georgie and Deck's. I'd really like you to come."
Fine. Crisis wanted to play . . . he froze halfway toward the bed when I raised my brows and smiled. He shook his head back and forth and mouthed, "Don't do it."
"Yeah, come in," I yelled.
Crisis dove for the bed, threw the duvet up in the air and landed flat on his stomach, the cover settling over him just as Ream strode in. I lay frozen beneath the covers, my heart racing, and a whoosh of blood charging through my veins. My breath hitched as warm heated air brushed across my bare thigh and goose bumps popped up along my skin.
I walked down the hall, pulled the elastic band on my boxers and glanced at my hard throbbing cock. "You'll have to wait a little longer, buddy."
"Are you really talking to your cock?"
I let go of the elastic and it snapped hard on my abdomen. Haven wasn't making coffee; she was coming up the stairs with an armful of clothes. Fuck, she looked hot, long blonde hair messy as if she'd tossed and turned in her sleep, and she had sleepy eyes—adorable.
"Yeah. He's angry this morning." I stood right in the middle of the top of the stairs so if she wanted to get by, she'd need to brush up against me. It was childish, but fuck, I was a guy.
Her brows lifted. "Why is he angry?"
I smirked, loving that she was down for a little play. "Placed an 'out of order' sign on him." Her brows drew together and her eyes flicked to my tented boxers.
"Doesn't look out of order."
I laughed and couldn't help myself as I stroked the back of my hand down her cheek. It took her by surprise and she swayed backwards. I grabbed her arm before she toppled down the stairs and pulled her up onto the landing next to me.
A white piece of clothing slipped from the pile she was holding and fell at her feet. I smirked when I realized what it was, and took great pleasure in helping her out since there was no way she could bend over and get it without everything falling from her grasp.
I let her go and crouched, picking up the white lace panties. I held them out and her nose twitched like a rabbit sensing danger. "I like white. Prefer pink though, for future notice. And lace I love."
She was trapped because if she snatched them from my hand, she'd drop the clothes and if she didn't then . . . I curled them up in my palm.
"They aren't mine," she blurted.
God, she was cute. "Darlin' I know they are and I love that you're denying it. Means you care."
Now that raised a little heat in her cheeks and I liked it. Shit, I liked it a lot because when I left a few months back, that would've never happened and now that was twice. She was affected by me—good to know. "I don't care."
I shrugged then turned to head back to my room to hide my newly acquired treasure. I had no doubt she'd search for them the second I left the house. I looked back over my shoulder and caught her eyes staring at my butt; could've been my back, but unlikely. Really, it didn't matter which. I was just impressed she was eyeing me up.
"You can look, but don't touch," I said.
Her mouth dropped open then snapped shut. I disappeared around the corner, then heard her stomping down the hall. Haven wasn't a stomper. She was graceful, elegant and controlled. Too controlled. And that part of her was coming down.
Nashoda Rose is a New York Times and USA Today bestselling author who lives in Toronto with her assortment of pets. She writes contemporary romance with a splash of darkness, or maybe it's a tidal wave.

When she isn't writing, she can be found sitting in a field reading with her dogs at her side while her horses graze nearby. She loves interacting with her readers and chatting about her addiction—books.