April was a fantastic month with just the mere fact that I read 4 new books from 3 of my top 5 all time fave authors! My month was filled with the exciting continuation of some really great serials, a novella on one of my top 5 book boyfriends, a hilariously hot number, discovering a great author from my hood and a fantastic debut novel!
(Click the Covers to purchase)
Perfect Chaos (Unyielding #1)
by Nasoda Rose
Have since I was sixteen and my world fell into chaos. But I found a way to endure, or rather it found me. Now I'm a prisoner of my own doing, hiding behind a false mask so no one sees the truth. Not even the man I want but can't have—Deck. But I messed up and the lies are spilling over, out of control.
Deck is unrelenting and will settle for nothing less than the truth. He demands everything from me—EVERYTHING—even if it rips me apart.
Unyielding—It's how I survive in my line of work. I bend people to my will…except Georgie.
I've played her game for far too long. Now I think it's time we play mine
Hate F*@k: Part Two (The Horus Group #2)
by Ainsley Booth
Shadow & Soul (The Night Horde SoCal #2)
by Susan Fanetti
Michael "Demon" Van Buren is an enforcer with the Night Horde SoCal. He is a man tormented by his past, by the beast that lurks in his soul. He wants nothing more than to have love and a family, to be a good father to his young son, to have a home. But the experiences of his life have warped him, and he despairs of ever having, or deserving, the chance.
Demon met Faith Fordham when they were young—when she was quite young. The daughter of the former club's Sergeant at Arms, Faith set her sights on the Prospect with the romance-hero eyes, and she didn't care that her father, and her age, had made her off limits. As captivated by her as she was by him, and a slave to his impulses, Demon, too, ignored the dangers of loving the SAA's forbidden daughter.
It ended in the only way it could. They were torn apart, lost to each other. Losing everything.
Ten years later, Faith comes home to a place she'd never lived, and Demon, darker now than ever, is there.
Note:
explicit sex and violence.
Do Not Disturb (Deanna Madden #2)
by A.R. Torres
Equal parts Dexter and 50 Shades, this is the eagerly awaited follow-up to the daring erotic thriller, The Girl in 6E, by A.R. Torre.
1. Don't leave the apartment.
The rules were simple and I broke them.
Now I must face the consequences.
Everyone else must face me.
Opulence (The Excess #1) & Reverence (Excess #2) by Angelica Chase
This is a novella series Suzanne has read the first two and the third (Hindrance) is out on May 15th 2015.
When I was twenty-eight years old, I wrote my own winning lottery ticket. A simple idea thrust me onto the fast track to wealth, and into a world I had only ever dreamt about. I submerged myself in the unfamiliar, a life that seemed all too alluring … until it lost its appeal.

I made my fortune, built my castle, and then exiled myself within its comforts once reality set in.

Far too late, I discovered I was drowning in a sea of hungry sharks. Given the choice to sink or swim, I chose the latter … and it cost me everything.

Devin McIntyre, the most dangerous shark of them all, was the last nail in my naïve coffin. His beautiful smile and amazing cock tainted me in ways I could have never imagined.

I craved him. I needed him. I loved him.

Miserable with the outcome of my prosperity, I set out to change what disgusted me most—the first decision being to rid myself of Devin. Little did I know that taking that first step would make me a slave to a man far more tempting … or that my addiction to Devin would threaten to ruin it all.
If you are not a fan of cursing, erotic and extremely explicit sex, cheating, immoral behavior, dysfunction or sexual scenarios that may make you feel uncomfortable this is not the series for you. FILTHY EROTIC ROMANCE
Devin
I was a prick, but I never hurt anyone that didn't deserve it.
Well … until Nina.
I was a very smart man who made a very bad decision, but the mistakes I was paying for were not just my own.
My behavior toward her, no matter how unforgivable, had always been about protecting her—from me, from my wife, and from the long line of mistakes I would never be able to rectify.
Nina was finally done with me, and I knew it was for the best. I could finally keep her safe from depraved people like me. I needed her as far removed from the situation as possible. I tried to force myself to be content with her decision to move on … until I found out whom she was moving on with.


Nina
My unyielding love for a corrupt man might have cost me the affection of someone worthy.
With Aiden, I had finally discovered a version of myself I could tolerate; then he dropped a one word bomb that ruined my new sense of self. Instead of listening to my voice of reason, I blocked it out, until it became a scream that refused to be ignored.
Now, I would give anything to quiet that voice.
If you are not a fan of cursing, erotic and extremely explicit sex, cheating, immoral behavior, dysfunction or sexual scenarios that may make you feel uncomfortable this is not the series for you. FILTHY EROTIC ROMANCE
Isolated (Evan Arden #4) by Shay Savage
Improvise, Adapt, and Overcome. The mantra is good enough for the Marines; it's good enough for me. Improvise . . . Near the top of the world, I fight for my life against my opponent, Sebastian Stark. He has the upper hand in strength, but I have the cunning to turn the tables on him. I battle the elements, my demons, and him until Stark and I manage to strike a deal to ensure freedom for us both—and the women we love.
Adapt . . . Being alone comes naturally to me. I've spent most of my life alone. Sharing my experiences, opening up to another human being, developing a relationship—all these things are foreign to me. Sometimes I wonder if it's even meant to be.
Overcome . . . I've been away from Lia for far too long, yet I still have commitments I must keep. When I make my way home, I will tell her I have decided to end the life I have led and move on to become the man she needs. I can overcome my demons; I must. But will Lia be willing to wait?
Unblocked - Episode Two (Timber Towers #2) by Marni Mann
One taste was all it took.
Derek Block demands more.
Frankie Jordan wants to run.
Pleasure complicates business.
But some passion is just too hard to resist.
Things are getting hotter as real estate gets real….
This is Episode Two of the five-episode Timber Towers novella series.
Overruled (The Legal Briefs #1)
by Emma Chase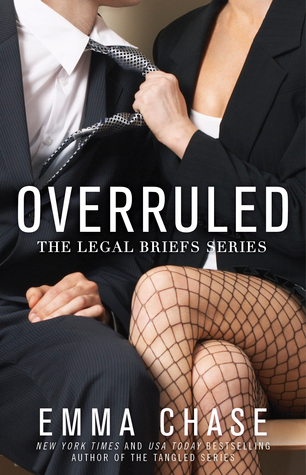 Emma Chase, New York Times bestselling author of the Tangled Series, returns with the first installment of the Legal Briefs Series.
As a DC defense attorney, Stanton Shaw keeps his head cool, his questions sharp, and his arguments irrefutable. They don't call him the Jury Charmer for nothing – with his southern drawl, disarming smile and captivating green eyes – he's a hard man to say no to. Men want to be him and women want to be thoroughly cross examined by him.
Stanton's a man with a plan. And for a while, life was going according to that plan.
Until the day he receives an invitation to the wedding of his high school sweetheart and mother of his beloved ten-year old daughter. Jenny is getting married — to someone who isn't him.
That's definitely not part of the plan.
***
Sofia Santos is a city raised, no-nonsense litigator who plans to become the most revered criminal defense attorney in the country. She doesn't have time for relationships or distractions.
But when Stanton, her "friend with mind-blowing benefits" begs for help, she finds herself out of her element, out of her depth, and obviously out of her mind. Because she agrees to go with him – to The-Middle-Of-Nowhere, Mississippi – to do all she can to help Stanton win back the woman he loves.
Her head tells her she's crazy...and her heart says something else entirely.
***
What happens when you mix a one stop-light town, two professional arguers, a homecoming queen, four big brothers, some Jimmy Dean sausage and a gun-toting Nana?
The Bourbon flows, passions rise and even the best laid plans get overruled by the desires of the heart.
Dissident (Bellator Sage #1)
by Cecilia London
She once was important. Now she's considered dangerous.

In a new America where almost no one can be trusted, Caroline lies unconscious in a government hospital as others decide her fate. She is a political dissident, wanted for questioning by a brutal regime that has come to power in a shockingly easy way. As she recovers from her injuries, all she has are her memories. And once she wakes up, they may not matter anymore.

Part One of a Six Part Series. Each part is a full length novel between 60,000-120,000 words and ends in a cliffhanger. For readers 18+. This saga contains adult situations, including non-gratuitous violence, explicit (consensual) sex, psychological and physical trauma, and an oftentimes dark and gritty plot (particularly in part two).
Today & Tomorrow (The Night Horde SoCal #2.5) by Susan Fanetti
Nolan Mariano is on loan from the Night Horde Missouri charter; he's been sitting at the SoCal table for almost a year. Though his family is clamoring for him to return home, he doesn't feel ready yet—he doesn't feel that he's been tested enough. Despite the patch on his back, he's not sure he's earned the right to sit in the seat his father once occupied.

Analisa Winter meets Nolan when he volunteers to teach her to ride a Harley. Learning to ride is on Analisa's bucket list, and that list is of paramount importance to her. She is dying, and she's determined Clive her full life first.

Nolan has no intention of falling in love with a dying girl. But Analisa is the kind of girl you can't help falling in love with, even when you know that love is doomed.

Nolan becomes a man in California, and he learns what kind of man he has become. His story is just beginning.
Filthy Marcellos: Dante (Filthy Marcellos #3) by Bethany-Kris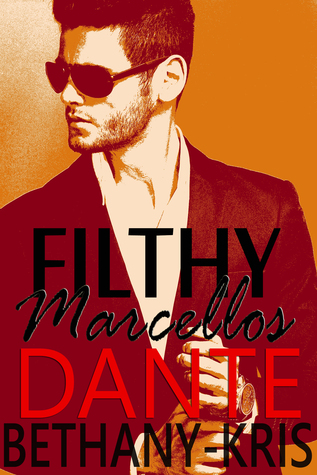 Dante Marcello's life has been a carefully planned event as an heir to a Cosa Nostra throne. For as long as he can remember, he's had one goal in mind, and that's becoming the Don. With his father ready to step down, it's Dante's turn to step up. But without a wife at his side, his seat as the boss is on shaky ground. Until she shows up with an offer he wants to refuse, but can't.

With her, he's got everything to gain.

Catrina Danzi is known for her angel face and a predator's grace. For over a decade, she's worked as a successful Queen Pin dealing with a repertoire of clientele who can't afford a scandal. That's why they ask for her and why they call her Queen. Marrying Dante Marcello means giving up the business and status she loves in order to gain protection she can't provide on her own, but she no longer has a choice.

Without him, she's got everything to lose.

The rules for their arrangement are simple: no intimacy, no emotions. Dante isn't looking for love and Catrina doesn't need attachments. In the end, life has a way of breaking down walls when you least expect it to, and once love gets in, there's no bleeding it out. Together, they make a formidable team the Commission won't be able to ignore. Catrina's secret of what she's kept safe will put the entire Marcello family in danger when it finally catches up with her. The Marcellos have yet to be beaten, and they're not about to start bowing down now.
This book is due to be Released June 2nd 2015, but part 1&2 are already out and the links to buy are in the review.