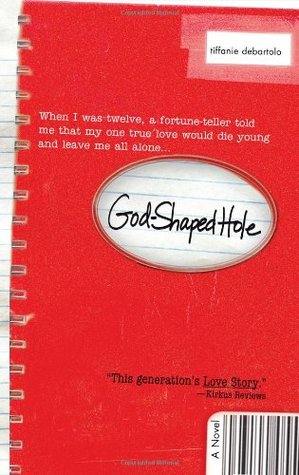 When I was twelve, a fortune teller told me that my one true love would die young and leave me all alone.
Everyone said she was a fraud, that she was just making it up.
I'd really like to know why the hell a person would make up a thing like that.
Written with the snap, glitter and wit of The Girl's Guide to Hunting and Fishing, God-Shaped Hole is a memorable, poignant love story that will leave you weeping with laughter. It is told in the wry, vulnerable voice of Beatrice "Trixie" Jordan who replies to a personal ad, "If your intentions are pure I am seeking a friend for the end of the world."
In doing so, she meets Jacob Grace, a charming, effervescent thirty-something writer, a free spirit who is a passionate seeker of life. He possesses his own turn of phrase and ways of thinking and feeling that dissonantly harmonize with Trixie's off-center vision as they roller coaster through the joys and furies of their wrenching romance. Along the way they try to come to terms with the hurt brought about by their distant fathers who, in different ways, forsook them.
This story will prove so touching you will rush to share it with a friend or loved one or even a stranger.
5+++++ Outstanding Stars
Oh hell how do I review a book like this?? I simply don't per-se. I'm going give you my thoughts but honestly you need to read this with no assumptions of what its about just ignore what everyone's said and READ IT!! This is good stuff.
Jacob puts an ad in the paper
And Trixie reply's
"Here's the thing," Jacob continued, "I feel like we grew in the same womb or something. Like we've been connected from the beginning by blood and veins. Siamese soul lovers. If there could ever be such a thing."
If there ever was a couple that were meant for one another these two ARE IT!!! Trixie doesn't exactly connect closely with her friends and family she's a loner she does have people in her life but not people I would say that are close by any means but she is a strong, Jacob does have friends and his mum who he's close to but still he's the kind of person that is a league of his own, he's all about the soul and together they live in their little bubble together from day to day, moment to moment, experience to experience.
This is the kind of story that will make you FEEL, will make you think about life, it will gut you, make you laugh, make you cry, this is a story about LOVE
Do you believe in fate? I am a firm believer in things happen for a reason, I do believe in fate and yes I do also believe in God is that right or wrong? Well I don't think there's a right or wrong answer to that, that's just my point of view. But this story sure made me think about my life, made me thankful for what I have, make me glad I have the people who are in it, IN IT, and question what direction I'm going. And tell my family I love them every day. THIS STORY WILL MAKE YOU FEEL
"It's all about now," he said. "Let's always try to remember how we feel right now."
The Writing
This author is outstanding, she has a way that will pull you in and take hold of your emotions, it's exquisite, it's like poetry in many ways, she writes emotion but she also wowed me and made me laugh.
A highly recommended read. I now need to read How to Kill a Rock Star.
p.s Thank you Shannon for your review and for pushing me in the right direction I probably wouldn't off picked it up for a good while otherwise... so cheers your the best.
And lastly I will always love this song now for new reasons beautiful...
That is all