(Click on Pictures for more info or to purchase)
Experiment in Terror Series
Dark House (Experiment in Terror #1)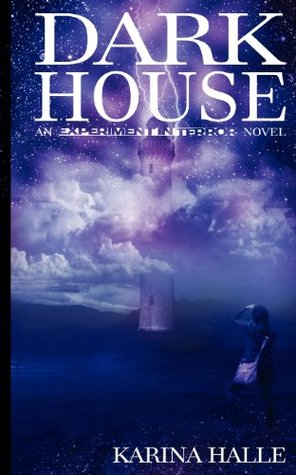 There's always been something a bit off about Perry Palomino. Though she's been dealing with a quarter-life crisis and post-college syndrome like any other twentysomething, she's still not what you would call "ordinary." For one thing, there's her past which she likes to pretend never happened, and then there's the fact that she sees ghosts. Luckily for her, that all comes in handy when she stumbles across Dex Foray, an eccentric producer for an upcoming webcast on ghost hunters. Even though the show's budget is non-existent and Dex himself is a maddening enigma, Perry is instantly drawn into a world that both threatens her life and seduces her with a sense of importance. Her uncle's haunted lighthouse provides the perfect catalyst and backdrop for a horrific mystery that unravels the threads of Perry's fragile sanity and causes her to fall for a man, who, like the most dangerous of ghosts, may not be all that he seems.
Also in the Experiment in Terror Series:
Dark Light (Dark Light #1)
Love. Sex. Magic.
Before her 20th birthday, Gabriella was pretty much clueless about all three. In love with her best guy friend since the age of 14 and too crass and intimidating for most of the male population of Colorado Springs, love and good sex were virtually a myth.
And then there's magic. Freakin' magic. There's no way that legend could have a place in her less than exciting life. So why after twenty years of utter obscurity do her adopted parents hit her with the ton of bricks that is her true identity? And how the heck is she supposed to accept all this and become what she was truly created to be?
Lucky for Gabs, sexy as sin Dorian is more than equipped to help her embrace these new revelations. And while everything about him feels oh so good, she soon learns that there's more behind his crystal blue eyes, chiseled body and exotic beauty. Something dark, menacing and downright unnatural. Yet Gabs is in way too deep to even try to turn away from him now.
Dark Light, Book 1 of the Dark Light Series, is the raw, emotional story of a young woman's journey of self-discovery in a world that was not meant for her. And her scorching hot, lip-biting addiction for the man she can't deny, no matter the cost.
*Contains strong adult content.
Also in the Dark Light Series:
***A note from the author about this book: Donners of the Dead is a historical horror romance set in the Old West of 1851 – couples were often thrust into marriage together with short courtships, racism was widespread and not overly frowned upon, and women had little to no rights. What wouldn't fly in today's day and age was unfortunately the norm back then - it is worth keeping that in mind when reading this book. There are themes of racism and prejudice that might upset sensitive readers.There is also sex, adult themes, and gore, because, you know, zombies.
~~~Jake McGraw was unlike anyone I'd ever known. He was brash, rude, unapologetic and arrogant; chauvinistic, close-minded, and terribly stubborn. He was built like a tree, tall with a hard chest and wide shoulders and hands that looked like they could wrestle a bear. He was a cigar-chomping, scruffy-faced, beast of a man. I was pretty sure I hated him. And I know he hated me. But among the flesh-eating monsters in these snow-capped mountains, he was the only thing keeping me alive.~~~
The year is 1851 and pioneers in search of California gold are still afraid to travel on the same route as the tragic Donner party did years before. When the last wagon train to go into the Sierra Nevada mountains fails to arrive at their destination, Eve Smith, an 18-year old half-native girl with immense tracking skills is brought along with the search party, headed by an enigmatic former Texas Ranger, Jake McGraw.
What they find deep in the dangerous snow-covered terrain is a terrifying consequence of cannibalism, giving new meaning to the term "monster." While the search party is slowly picked off, one by one, Eve must learn to trust Jake, who harbors more than a few secrets of his own, in order to survive and prevent the monstrosities from reaching civilization.
Do you have any Halloween Recommendations for us? Comment Below xo